For NEW summer sundaes: Creams Cafe 
Creams Cafe locations nationwide
Turn back the clock and roll back the years to the good ol' days this National Ice Cream Day with Creams Cafe's new retro-laced summer menu, designed to delight dessert lovers. Tuck into nostalgic ice cream treats such as the sweet and sour Lemon Meringue Cheesecakundae (£9.95 eat-in / takeaway) or the out-of-this-world Retro Rocket Sundae (£8.95 eat-in / takeaway), two of the latest sweet treats from Creams Cafe Summer Lovin' menu. Enjoy an (ice) blast from the past with the new menu at Creams Cafe nationwide from now until 10th October. For an added sweet treat, Creams has partnered with IceLolly.com to provide one lucky winner with a £ 500 holiday voucher and a £250 Creams Cafe voucher prize! Keep your cool and an eye out on the Creams Cafe social channels for all details of how to enter.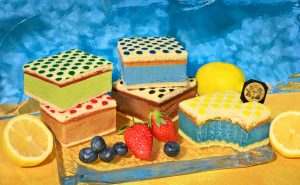 For the ice cream lolly lovers: Bōkan 37
Floor 37-39, 40 Marsh Wall, London E14 9TP
Celebrate National Ice Cream Day with the ultimate light, yet indulging cooling treat at the award-winning restaurant, Bōkan. Perched high in the sky on the 37th floor of Novotel London Canary Wharf, sample the  Gariguette & Lemon Verbena Ice Cream Lolly, courtesy of Bōkan's Head Pastry Chef Luigi Festinante. Featuring fresh strawberry mousse and marmalade, Amalfi lemon jelly, lemon verbena parfait, coated in a strawberry chocolate glaze and served with lemon verbena ice cream, this dessert is not only visually pleasing but guaranteed to hit the spot and satisfy your sweet tooth. Enjoy as you bask in the sun and admire London's iconic skyline.
Available as part of Bōkan's two, three and seven-course tasting menus.
For a sweet ice cream sandwich: Mariage Frères
38 King Street, Covent Garden
It's definitely summer at luxury tea purveyor, Mariage Frères, as it opens its ice-tea terrace and launches what promises to be the snack of the summer.  Watch the world go by whilst indulging in limited-edition tea-infused ice cream and sorbet sandwiches whilst sipping on cold brew, iced tea cocktails. The pretty-as-a-picture polka dot ice cream sandwiches, priced at £9, sport two tasty slices of pain de Gênes cake generously coated in caramel with a choice of five flavours from matcha green tea and black tea, vanilla and chocolate ice creams through to a blue tea sorbet flavoured with lemon and red berry liqueur. Enjoy on the al fresco terrace or simply grab and go.
https://www.mariagefreres.com/UK/welcome.html
For an ice cream alternative: Freezecakes
Silky smooth and irresistibly creamy, swap out ice cream for Freezecakes – the world's first frozen cheesecake in a tub. Set to be your ultimate spooning partner this summer, the revolutionary dessert has crunchy biscuit pieces and pockets of indulgent sauce, swirled together with delicious frozen cheesecake. Choose from three flavours including zesty Lemon & Raspberry, rich Double Chocolate and sweet Butterscotch & Caramel. Whether you're a spooner, sharer or scoffer, chill out this season with Freezecakes!
Available nationwide in Co-op and Waitrose stores – £5 per 350g tub